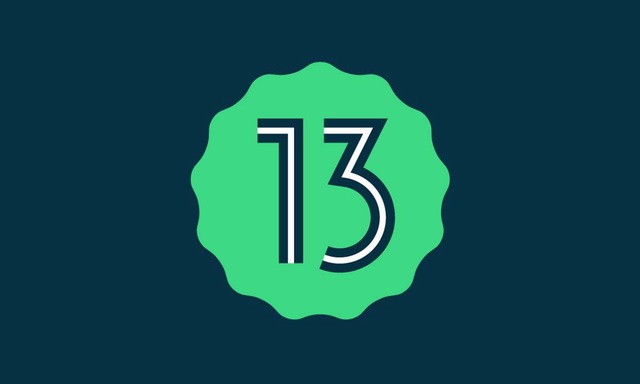 If you regularly read tech news, you might know that Google just released the first developer preview of Android 13. Yes, that's right; Android 13 Developer Preview is open for testing, development, and feedback.
So, if you are a developer or a tester, you can download and install Android 13 Developer Preview on supported smartphones/tablets. Android 13 Developer Preview is now available for all owners of Google Pixel smartphones, whether they are developers or not.
The 'Android 13 Developer Preview' is not nearly finished, however. It just means that there will be bugs and issues and it is only intended for developers to use for testing.
In other words, if you don't know how Android works, it's best to skip the Developer Preview builds of Android. However, if you are a developer, you can try these three things:
Try new features and APIs
Test the compatibility of your current application
Test your app with opt-in changes
List of devices compatible with Android 13
Before installing Android 13 Preview, please make sure you have compatible smartphones. Here are the smartphones that can test Android 13.
Pixel 4/XL
Google Pixel 4a
Pixel 4a 5G
Pixel 5
Google Pixel 5a
Pixel 6
Pixel 6 Pro
How to install Android 13 on a Google Pixel smartphone?
Installing Android 13 Preview is quite simple, especially on Pixel devices. First, you need to follow some of the simple steps given below.
1. Enable Developer Options
The first step is to enable the developer option on your Google Pixel device. For this, you need to open the app drawer and click on the Settings app.
In the Settings app, scroll down to download and tap on the option About Phone. Then on About phone, scroll down and press build number. You need to tap the build number seven to eight times.
When you start tapping on the build number, a popup tells you that you are about to become a developer. Once completed, you will see a success message "Congratulations, you are a developer! »
2. Enable USB Debugging and OEM Unlock
After enabling developer option, you need to open settings and find developer options. Tap Developer options and enable USB debugging with OEM unlock.
This will enable the USB debugging option on your Pixel smartphone. Your smartphone is now ready to install the Android 13 Preview update.
3. Open Android Flash Tool
Android Flash Tool can be used to install Android builds on your devices. After enabling USB debugging, you need to open your PC web browser and go to the website flash.android.com.
Note: although we have listed the steps, it is best to follow the on-screen instructions displayed on the Android Flash Tool website to avoid any errors. The process, if not going well, can crash your device. So proceed at your own risk.
This will open the Android Flash Tool website. Next, connect your smartphone to your PC via a USB cable and reload the website. Now click on the button "Add a new device" and your connected device will be displayed.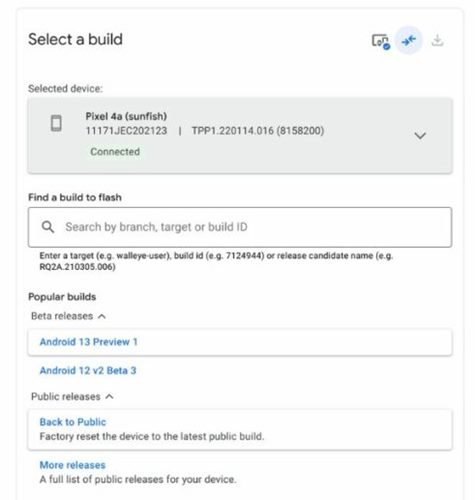 Select your device and you will see a USB debugging prompt appear on your smartphone screen. You must allow the prompt. On the next screen, choose Android 13 Preview 1then click Install release.
Once the factory reset warning message appears, press the reset button. confirmation to start the process. This step will also unlock your bootloader if it is not unlocked. Simply use the Volume Up and Power button to unlock the bootloader when prompted.
After this process, the Flash tool will automatically download Android 13 Preview on your PC and install it on your smartphone. The process is automatic, simply avoid any interaction with your smartphone during this time.
After a few minutes, the Android Flash Tool website will ask you to lock the bootloader. Just select " To start up "then use the volume and power keys of your smartphone to lock the bootloader.
This will install Android 13 Preview on your device. The website will show you the prompt Installation completed during installation. Then, simply disconnect your smartphone from your PC and you will be using Android 13 Preview.
Conclusion
That's it! You have finished. I hope this article has helped you. If you have any questions or suggestions, let us know in the comments. Also check out this guide if you want to learn how to install Windows from an Android device.