Print from Android Phone
Print from Android Printing hard copies of documents is one of the most basic tasks a computer can perform. But did you know it's almost as easy to do from an Android smartphone or tablet? It can be hidden, but it's possible on any device and doesn't require any special hardware either. Whether you're using a manufacturer-specific app or printing directly over WiFi, you can print your favorite documents or photos on almost any printer. Here's how to print from your Android smartphone or tablet.
Print directly to your printer via an app
When you want to print from your Android smartphone or tablet, the first place to start is the Play Store. Most major brands, including Canon, Epson and HP printers, have their own dedicated apps that will install the necessary drivers to allow you to print directly to their wireless printers.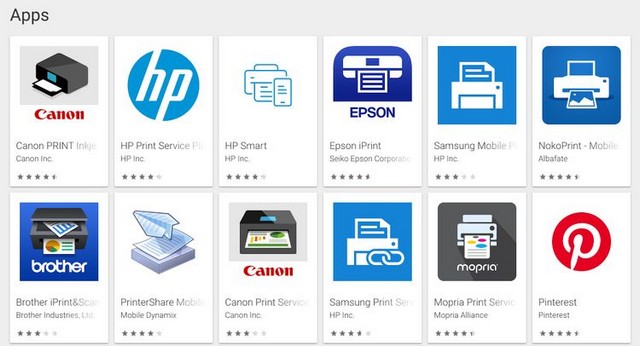 To find the apps, search the store or go to Settings > Connection Preferences > Printing on your smartphone and press Add a department. The resulting screen will show all available printing apps and you can choose the one that matches your printer brand.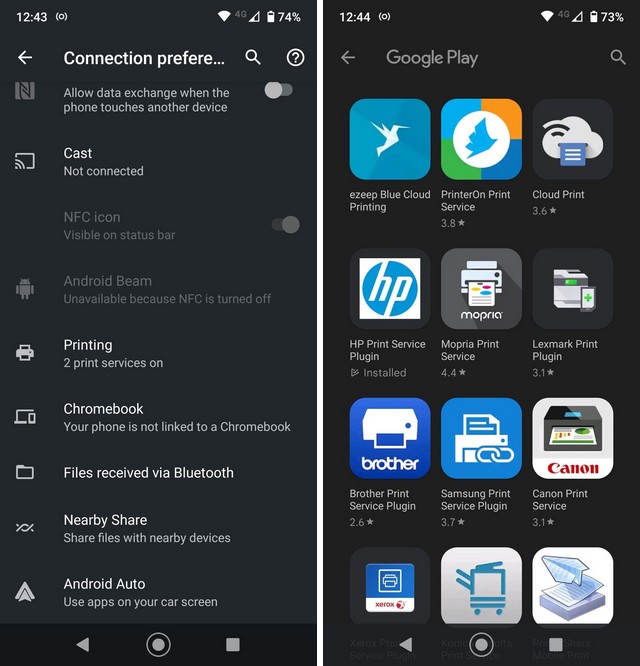 Each app works differently, so follow the onscreen instructions for the app and printer you've chosen.
Generally speaking, you should make sure your printer is connected to the same wireless network as your smartphone. If so, the app should automatically detect it and then you can select the printer and be good to go.
Depending on the printer you use, you might not even need to download a specific app to use it. Android 8 and later includes the default print service, which can automatically detect and configure compatible printers on your network. From Android 9 and later, compatibility includes printers that support WiFi Direct.
If your printer is fairly new, chances are it's compatible.
To use it, go to Settings > Connection Preferences > Printing and select Default Print Service. Switch the service to Enabled and it will start searching for compatible printers on your WiFi network. If your appears, simply select it to complete the installation process.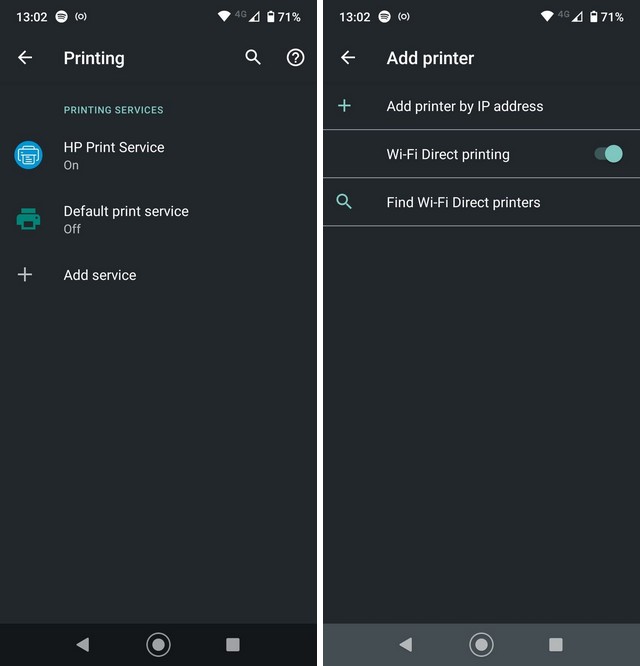 If not, you can add it manually if you know the details by tapping the three-dot menu icon and selecting Add a printer.
Keep in mind that some of these menus and options may be slightly different depending on the version of Android you're using (and your smartphone manufacturer), but the basics are the same.
Print by email
Another option you can use if you have a supported printer is to print to email. Some printers come with an email address that you can use to print from anywhere. Just open your email app, attach the file you want to print, and the printer will take care of the rest.
The advantage of this is that you can print from anywhere at any time (as long as your printer is on and connected to a network). The printer does not need to be on the same network as your smartphone.
The downside is that it only supports certain file types. These include all common image and office files, but if you have a file type that is proprietary to a specific application, you won't be able to print it via email.
Is Google Cloud Print still available?
A commonly recommended way to print from an Android smartphone through any printer was to use the Google Cloud Print service.
Google Cloud Print is no longer available. It was phased out at the end of December 2020. Even if you used it before, you can't anymore.
Cloud Print was a system that let you print to virtually any printer, albeit not wireless, from anywhere. It was a classic Google product: in beta for a decade, then discontinued.
How to print documents on Android
When you are ready to print, the process is different depending on the applications you are using. Some apps, including Google apps and third-party file managers and image viewers, have a dedicated print option in the menu.
1. Press the button To print.
2. Select your printer from the drop-down menu (this may default to Save as PDF).
3. Swipe up and down to change print settings, such as number of copies, page orientation, paper size, etc.
4. When finished, tap the printer icon to print. It's essentially the same as printing from your desktop.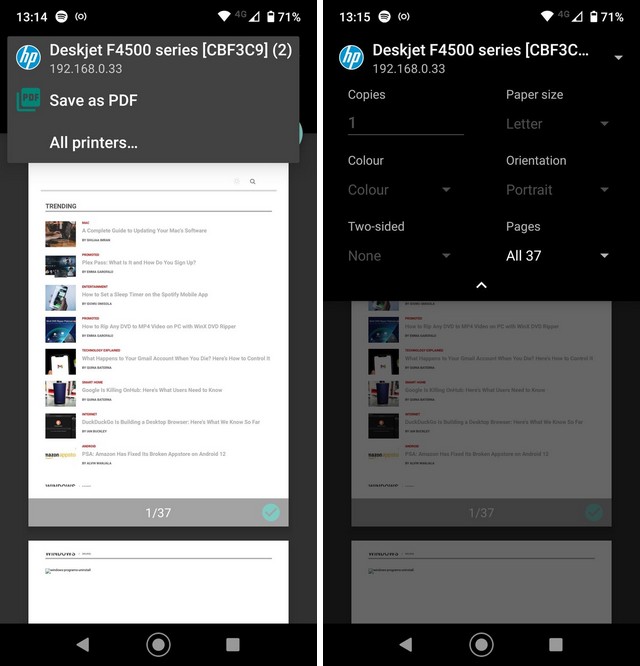 Some applications do not have a dedicated print button. Instead, the option is often hidden under the Share menu. Push the button To share to find the print option. You may need to swipe left in the options before you see it. The actual printing steps are the same as above.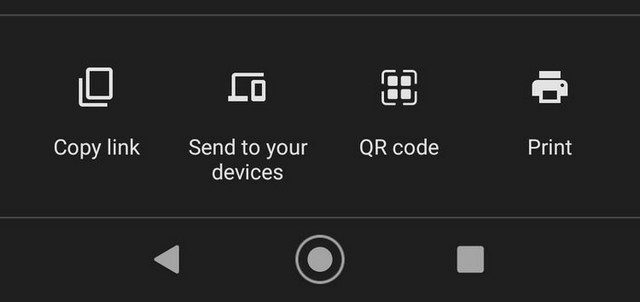 If none of these options work for you, you can try the PrinterShare Mobile Print app from the Play Store. Once you have installed and activated this application, you will see that a new PrinterShare option will appear in the Share menu in many applications.
Tap on it and you will be able to access all the printers configured on your Android device. Go through the different screens and you will eventually end up on the standard print screen. You can now print your document.
PrinterShare supports wireless, wired, and remote printing, but there are limitations on what you can do with the free version. Test it first to see if it works for you.
Print to PDF
One of the standard options you will see in the print settings screen is Print to PDF. This saves the document you chose as a PDF file. It's great for sharing documents in a format that's easily readable on virtually any device.
It's easy to print from Android
It might not be as important to print files as it used to be, but when you have to, there's no other option. Whether you need to print PDFs, important emails, or just your vacation photos, it's easy to do it right from your Android smartphone.
And if you print a lot, make sure you have a quality wireless printer to do it with.
In this guide, you learned how to print from your Android smartphone or tablet. If you also have any questions or suggestions, let us know in the comments. Also check this guide if you want to learn how to recover deleted photos on Android.